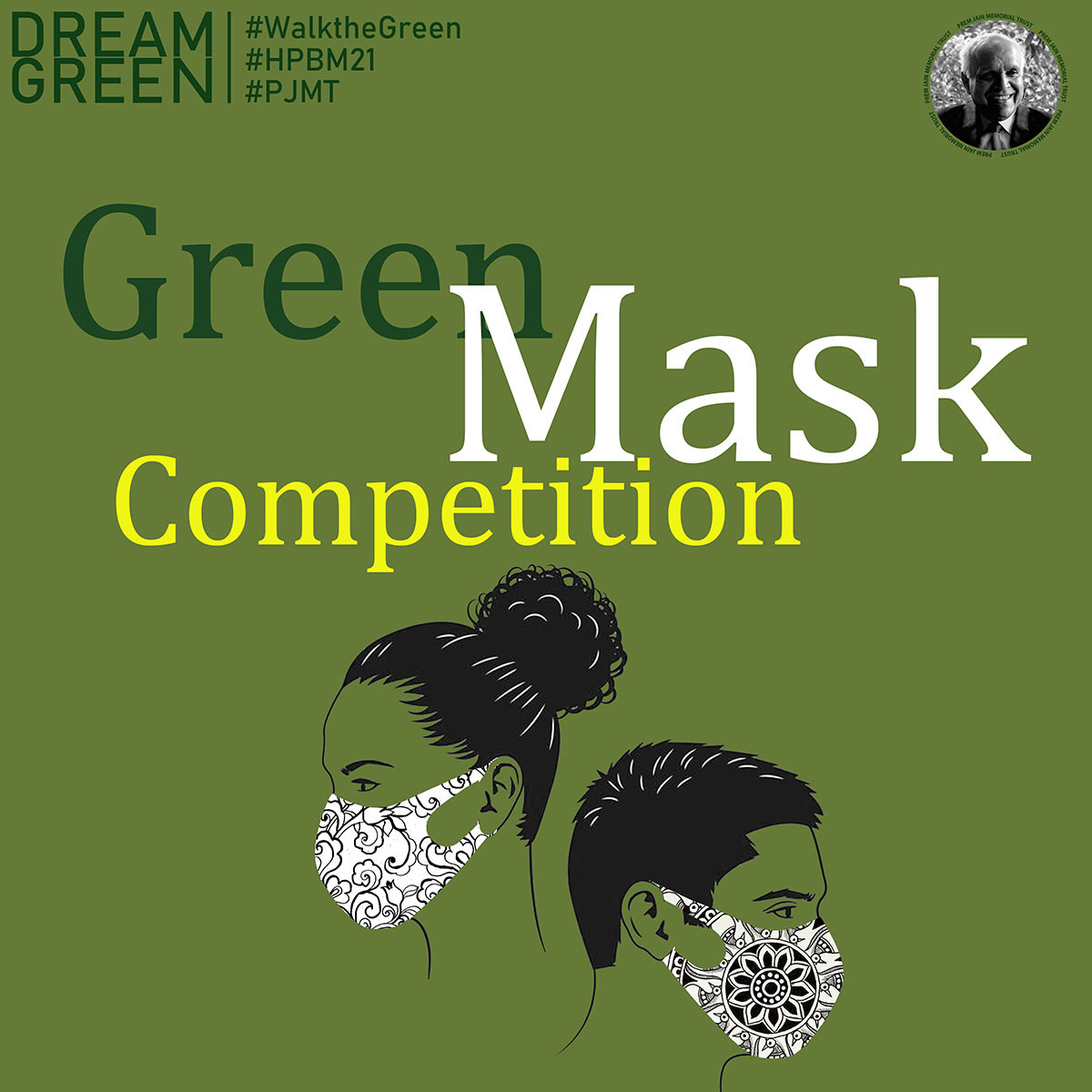 The Prem Jain Memorial Trust invites you to participate in GREEN MASK COMPETITION. This initiative seeks to capture the imagination and creativity of design enthusiasts, both professional and amateur, who are keen to make a difference and help the environment by designing a Sustainable Mask.
This is an attempt to create awareness about sustainable materials. You can illustrate your mask and show the physical interventions you might want to make in the elements of the mask. (for example, the fabric it uses, the folds, the elastic, etc.)
HOW TO PARTICIPATE
You need to make a GREEN MASK from any recycled / reused material or garment that you may have. You need to make the mask, shoot the detailed process and share all the photos of the process and Final GREEN MASK with us at greenmask@premjainmemorialtrust.com
The top 3 entries will be certified and recognized by the PJMT.
Use the Mask Pattern given by us.
Allow your creativity to soar with a digitally illustrated mask or hand painted version.
Send us your submission in jpeg/pdf format by 23rd January'21 by emailing us on greenmask@premjainmemorialtrust.com with your name, institution and social media handles.
File should not be heavier than 1MB.
Share your Final GREEN MASK photo on Instagram and Facebook by tagging @premjainmemorialtrust #PJMT #HPBM21 #WalkTheGreen #DreamGreen
Make sure your profile is public for the entry to be counted.
Only one entry per participant is allowed.
Top 3 winners @ INR 2000 for 1st Prize winner, INR 1000 for 2nd Prize Winner & INR 500 for 3rd Prize winner, will be announced during Prem Jain Memorial Address, scheduled to be held on virtual platform on 27th January 2021 at 2 pm
Top 3 Winners will be acknowledged with their creations on our Website www.premjainmemorialtrust.com
This virtual GREEN MASK COMPETITION is to celebrate #HPBM21, India's largest virtual green event.