Student Awards
Dr. P C Jain Alumni Gold Medal Award
Dr. P.C. Jain Alumni Gold Medal' is awarded to the student who scores the highest CGPA in the first year (cumulative of first and second semester) examination in Master's Degree Course in Building Engineering and Management in association with School of Planning & Architecture (SPA)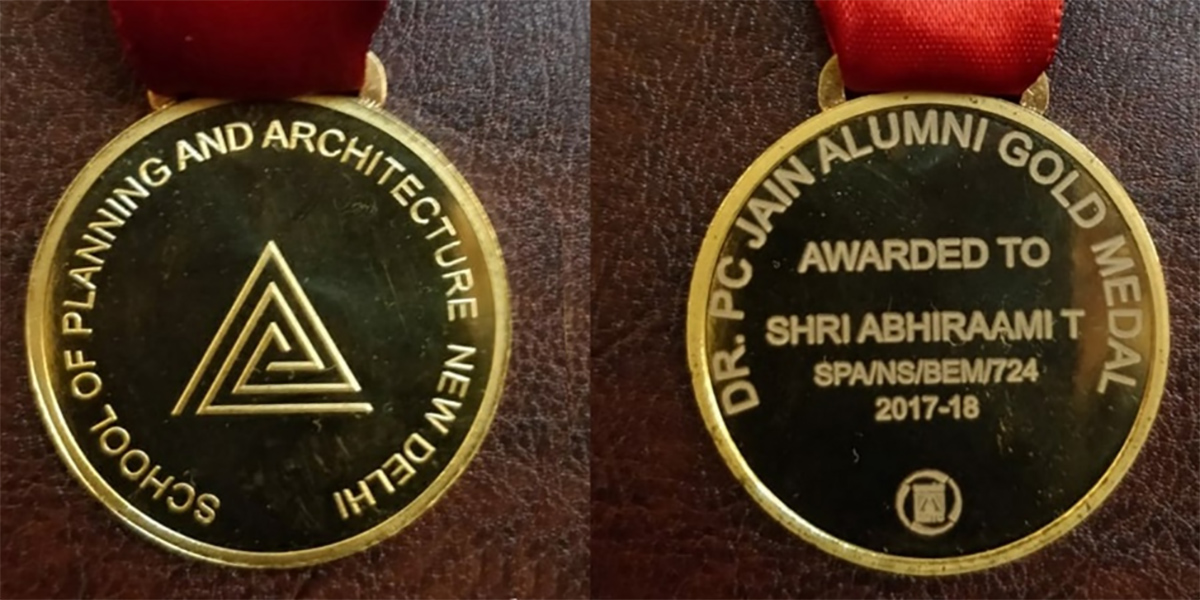 For the year 2018
PCJ gold medal was awarded to Mr. Abhiraami T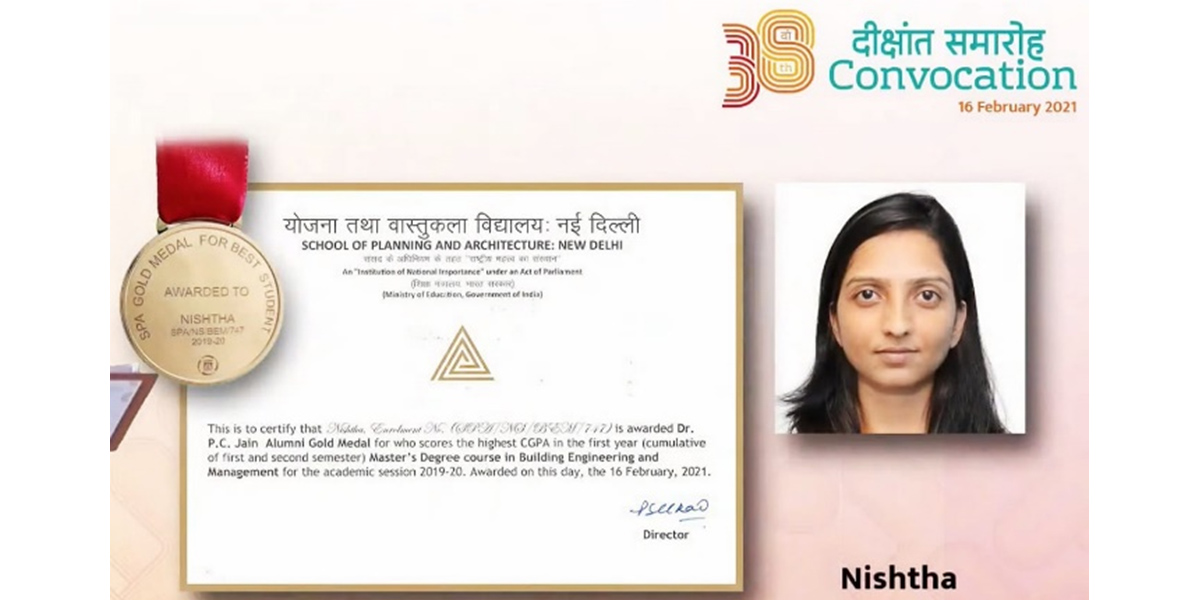 For the year 2020
PCJ gold medal was awarded to Mrs Nishtha
ASHRAE Prem Jain Memorial Scholarship
Special consideration shall be given to full-time undergraduate engineering students enrolled in a program accredited by a signatory of the Washington Accord in Asia or South Africa. If the cost of tuition, books, and supplies is less than the scholarship amount, then multiple scholarships in lesser amounts & not to exceed $5,000 total, shall be awarded annually.The scholarship was established in memory of Dr. Prem Jain, Life Member of ASHRAE, founder of ASHRAE's India Chapter-at-Large & Presidential member of ASHRAE India Chapter, Founder and Presidential member of ISHRAE.
For 2020-21 - Student Aashni Ujra , (Architectural Engineering, Heriot Watt University)
For 2020-21 - Student Song Lim , (Mechanical Engineering, University of Malaya)
For 2022-23 - Student Rahul Gupta , (Lokmanya Tilak College of Engineering)

Dr. Prem Jain Energy Award
with Apeejay Institute of Technology, School of Architecture & Planning
Under the patronage of Ms Payal Jain and the aegis of Prem Jain Memorial Trust the annual Prem Jain energy Award for students is Instituted with Apeejay Institute of Technology School of Architecture and Planning to be presented through annual competition entries on Design ideas during the Apeejay festival of ideas - Ignited Minds.
Dr. Prem Jain Energy Award is an attempt to promote Sustainability, and recognize students who offer sustainable solutions for the built environment, to safeguard and preserve natural ecosystems for future generations.
PJMT Gold Medal Student Member Best Thesis ASHRAE India Chapter
'Best Thesis' of ASHRAE recognizes Student members from each ASHRAE chapter
For UG student members –
Best Thesis awarded for 1 Under Graduate student member.
For UG and PG members –
Best Thesis awarded for 1 Under graduate student member
Best Thesis awarded for 1 Post Graduate student members
Dr. Prem Jain Award Life Time Service At ISHRAE
Dr Prem Jain Lifetime Service Award shall be awarded to person or persons, recommended by the Honours and Awards Committee based on Nominations received from Chapters through concerned RD in form of a scroll/ citation.
PJMT Scholarships for Students
Annual Scholarship/ Award
Amount : INR 100,000 per annum for each Academic Institution Jury : To be evaluated by the college senior jury and one PJMT BOG Member
Award Categories - 3 Awards :

1st Prize : Gold Medal + Certificate + INR 25,000 (Rupees twenty-five thousand only)
2nd Prize : Silver Medal + Certificate + INR 15,000 (Rupees fifteen thousand only)
3rd Prize : Bronze Medal + Certificate + INR 10,000 (Rupees ten thousand only)
Above 3 Awards for BFA and 3 Awards for MFA shall be given annually to the most deserving young talent in each category, after/during the annual students' exhibition.
PJMT Sculpture Award instituted in:
Kala Bhavan, Viswa-Bharati University, West Bengal.
Faculty of Arts, Sir JJ School of Art, Mumbai.
Department of Sculptures, Faculty of Arts, Jamia Millia Islamia, New Delhi.